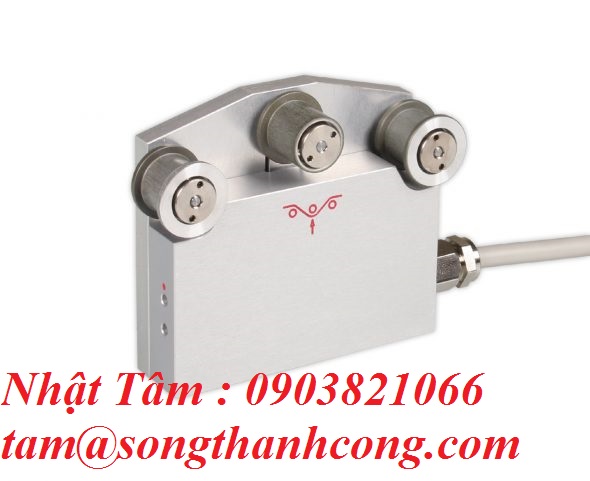 Cảm Biến Đo Lực Căng MBZB-200, MBZB-500, MBZB-1000
Xuất sứ: Germany
Nhà cung cấp: HansSchmidt-Song Thanh Cong
Hãng sản xuất: Hans-Schmidt
Liên hệ tư vấn

Mr Tâm

tam@songthanhcong.com
0903 821 066

tam_stc
4 Tension ranges available:
from 0 - 100 cN
up to 0 - 1000 cN
Application:
Ribbons, textiles, carbon strands, foils and similar flat materials
Field of use:
Max. roller width 10 mm
Features:
Zylindrical tape rollers are mounted on one side
4 Tension ranges available from 0 - 100 cN up t 0 - 1000 cN
Stationary electronic tension sensor for low tensions of textile ribbons, films, foils etc.
Compact sensor for continuous measuring of tensions with max. roller width of 10 mm
Tension meter can be fixes on a mounting rail DIN EN 60715 befestigt werden
Special Features
Tension sensor MBZF with integrated measuring amplifier and high accuracy of 2 % FS
Typical material path – warping the 3 rollers
According to the application, different tape rollers with various roller widths from 7 up and 10 mm are available
The roller width must correspond with the width of the material to be measured
Various output signals
– analog: 0 – 1 V DC (standard), 0 – 10 V DC (optional)
– analog DMS: mV/V (optional)
Universal mounting possibility – easy to install, even afterwards, on existing machines:
The sensor can be mounted using the three threads at the underside of the housing body. Alternativ it can be fixed on a optional rail DIN EN 60715. A mounting adapter is necessary.
Easy calibration to customized material by operator – zero and gain calibration is required
Measuring principle – loadcell with high quality strain gauge bridge
Supplied with a 2 m shield cable with open Ends (other cable length on request)
Tension sensor with aluminium housing
Certificate of Compliance with the order 2.1 according EN 10204 is included
Optionally available: Inspection Certificate 3.1 according EN 10204 with calibration report
| | | | |
| --- | --- | --- | --- |
| Model | Tension Range* | Measuring Head Width** | Roller Width |
| MBZB-100 | 0 – 100 cN | 70 mm | 7, 10 mm |
| MBZB-200 | 0 – 200 cN | 70 mm | 7, 10 mm |
| MBZB-500 | 0 – 500 cN | 70 mm | 7, 10 mm |
| MBZB-1000 | 0 – 1000 cN | 70 mm | 7, 10 mm |
Other measuring units available, such as g.
* SCHMIDT calibration material depending on tension range and roller width
** Outside dimensions of front plate