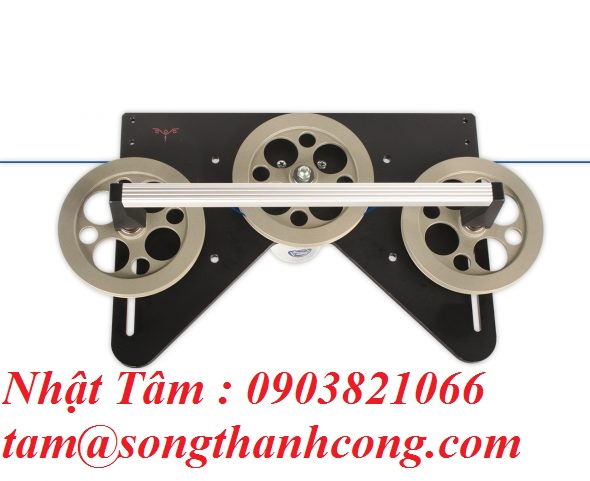 Cảm Biến Đo lực Căng
Xuất sứ: Germany
Nhà cung cấp: HansSchmidt-Song Thanh Cong
Hãng sản xuất: Hans-Schmidt
Liên hệ tư vấn

Mr Tâm

tam@songthanhcong.com
0903 821 066

tam_stc
6 Tension ranges available from 0 - 50 cN up to 0 - 5000 cN
Stationary electronic tension sensor for measuring sensitive materials as optical fibres, technical fibres etc.
Large, smooth running guide rollers with 70 mm groove diameter for minimized material deflection. The outer rollers can be moved downward, in case of non-measurements
Tension sensor for quick and easy mounting
Special Features
Tension sensor TSF with integrated measuring amplifier and high accuracy of 1 % FS
Large bending radius for gentle handling of sensitive material
Smooth running, V-grooved guide rollers, ball-bearing mounted with 70 mm Ø
The outer rollers can be moved downwards to minimize contact in case of non-measurements
Various output signals are avaialble:
– analog: 0 – 1 V DC (standard), 0 – 10 V DC (optional)
– digital: RS 232 (optional)
– current: 4 – 20 mA (optional)
– analog DMS: mV/V (optional)
Easy installation, even afterwards, on existing machines
Easy calibration to customized material by operator – zero and gain calibration is required
Tension sensor with mechanical overload protection
Measuring principle – load cell with high quality strain gauge bridge
Note: a wide range of custom designed models as well modifications are available on request. Please contact us with your demand!
Standard Features
Tension sensor TSF with rugged aluminium housing
Required power supply +15…24 V DC (regulated)
Certificate of Compliance with the order 2.1 according EN 10204 is included
Optionally available: Inspection Certificate 3.1 according EN 10204 with calibration report
| | | | |
| --- | --- | --- | --- |
| Model | Tension Range | Measuring Head Width* | SCHMIDT Calibration Material** |
| TSF-100 | 0 – 100 cN | 270 mm | PA: 0.12 mm Ø |
| TSF-200 | 0 – 200 cN | 270 mm | PA: 0.12 mm Ø |
| TSF-500 | 0 – 500 cN | 270 mm | PA: 0.20 mm Ø |
| TSF-1000 | 0 – 1000 cN | 270 mm | PA: 0.30 mm Ø |
| TSF-2000 | 0 – 2000 cN | 270 mm | PA: 0.50 mm Ø |
| TSF-5000 | 0 – 5000 cN | 270 mm | PA: 0.80 mm Ø |
Other tension ranges and measuring head widths available on request.
Other measuring units available, such as g.
* Outer distance between outside guide rollers
** Suitable for 95 % of applications PA = Polyamide Monofilament